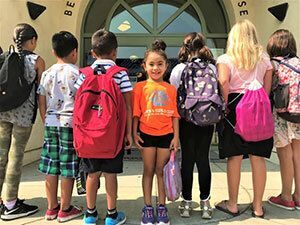 GREAT FUTURES START HERE!
Our Mission
To provide all young people a safe, positive and unique place to develop their natural talents, and to inspire them to achieve their full potential.
Our Values
Great Futures Start HERE...in all we do, we constantly strive to:
Be Accessible and Affordable for ALL Kids
Balance Fun with Learning-- "Fun with a Purpose"
Instill a Moral Compass, Act Ethically and With Integrity
Celebrate Diversity
Respect All Individuals
Grow Community Partnerships
Recognize and Honor our Supporters
Value our Staff and Volunteers
Be a Leader in Our Community
Deliver Measurable Results and Outcome Driven Programs with Impact
Be Accountable
Our Desired Outcomes
A Moral Compass, Healthy Lifestyles, Academic Success, and Good Character and Citizenship
Our Youth Development Strategy
Providing youth with the tools they need to strive, by helping them develop a sense of 
BELONGING, USEFULNESS, INFLUENCE AND COMPETENCE.
The History of Our Clubs
1989
First summer program occurs on grounds of St. Helena Catholic School with approximately 50 children
Club begins after-school programs in fall, operating out of the St. Helena Elementary School cafeteria and grounds.
Membership grows to over 200.
---
1990
St. Helena Club is incorporated as not-for-profit organization on November 21, which becomes the Club's official anniversary.
---
1991
Membership tops the 300 mark.
---
1992
Club moves back to Catholic School's newly constructed facilities establishing program office
and permanent site for Games Room, recreation and summer programs.
Fine Arts Program is established.
Homework Club (after school tutoring program) for Elementary school students is established.
---
1993
The St. Helena Club is chartered by Boys & Girls Clubs of America.
---
1994
Junior high school student Homework Club is established.
---
1995
"Youth of the Year Awards" is initiated, recognizing Members monthly and at Annual Awards Ceremony.
"Short Shooters" begins, teaching rules and skills and values of good sportsmanship and teamwork. 
---
1997
"Celebrating Girls!" program begins to meet needs of adolescent girls.
---
1998
KIDZNET computer lab plugs in and turns on in March, keeping up with new educational methods and Members' need and desire for additional learning facilities.
---
1999
Club begins field-testing SMART Moves Program, a comprehensive Youth Development program to help young people develop positive life skills training.
Junior Staff Program initiated.
---
2000
Short Shooters program grows into two separate leagues:  "Little Champs" for 1st and 2nd graders, and "Short Shooters" for 3rd and 4th graders.
NetSmartz, a safe, Internet investigative program is incorporated and a new learning tool with project-centered curricula launched.
Youth Diversion/Intervention Program begins, helping at-risk youth and minor first-time offenders.
---
2001
Calistoga Club after school program begins.  40 children sign up
Calistoga Club was officially Chartered by Boys & Girls Club of America on November 27, 2001.
---
2002
Calistoga Club summer program starts,  Membership tops 100.
---
2003
St. Helena Club and the St. Helena School District begin designs for a Joint Use Youth Facility.
Over 1,200 children participate in the Clubs' programs.
---
2004
Dragonfly Quest and Passport to Manhood (SMART Moves programs) are initiated in St. Helena and Calistoga
St. Helena Club and the St. Helena School District sign agreement to build a Joint Use Youth Facility on the Elementary School campus
---
2005
Calistoga Club, in partnership with the City of Calistoga, begins operation of the Calistoga Teen Center on January 1
---
2011
The first annual BIG Night - LIVE Auction and Gala Fundraiser 
---
2018
Mental Health awareness is emphasized as BGCSHC starts Teen Mental Health Retreats, a week-long retreat in the mountains of Oregon.
20-25 teens participate in each of these annual Fall and Summer retreats.