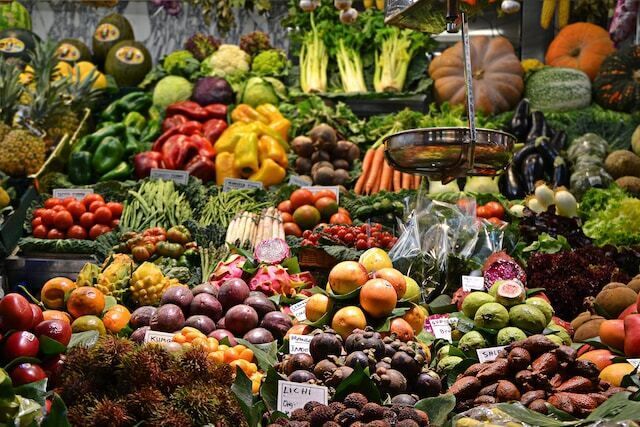 The month of June is known for many things: the first month of summer, its breezy, warm weather, long days at the pool… the list goes on. But did you know that June is also known as National Fresh Fruits and Vegetables Month?
That's right, this month we celebrate tasty and nutritious options for food by enjoying some fresh fruits and vegetables. How can you and your family celebrate June? By trying out some of these easy and delicious options to celebrate National Fresh Fruits and Vegetables Month.
Make an effort to buy more fruits and vegetables.
The first step in celebrating National Fresh Fruits and Vegetables Month is making an effort to buy more fruits and vegetables. Oftentimes when we're grocery shopping we can get caught up in things on the shelves and grab the first thing we see. This month, get in the habit of making a list and consciously buying more fruits and vegetables for your family to enjoy.
Incorporate fruits and vegetables in every meal.
Fruits and vegetables are an important part of anyone's diet, so try out new methods of incorporating them in every meal. For breakfast, try some orange slices with toast or blueberries on top of your oatmeal. Lunch, enjoy a banana and carrots with your favorite sandwich. And for dinner, have a hearty meal with broccoli and bell peppers on the side. Making little steps to eat fruits and vegetables throughout the day will have an enormous health benefit.
Grow your own fruits and vegetables.
If you have time and resources, consider starting your own garden to grow fresh fruits and vegetables right at home. Not only will it help to save money, but you may be surprised at how tasty your food is. If you start early enough, you'll have some great produce ready to go throughout the summer and even into the fall.
Buy locally grown fruits and vegetables.
If growing your own food doesn't sound appealing, check out where you can buy locally grown fruits and vegetables. Oftentimes, these products are grown with less or no chemicals and are healthier for you and your family. Plus, they support the local economy, which will come back to benefit you later on. Take a trip to a family-owned grocery store, your local farmer's market or a roadside stand for fresh, delicious fruits and vegetables.
Learn new ways of preparing fruits and vegetables.
This month, take some time to check out new recipes and learn different ways of preparing your fruits and vegetables. If you or your family are getting tired of the same old produce made the same old way, get creative! See what recipes you can find online or from friends and family, and be adventurous by trying new fruits or vegetables you haven't had before. Not only will your cooking skills benefit, but your taste buds will thank you, too.
Have fruits and vegetables for healthy snacks.
Finally, make an effort this month to avoid the chips and brownies for a healthier snack option: fruits and vegetables. You'll get that mid-afternoon energy boost you need, but without the tiresome sugar crash. Pack a few healthy snacks for the day and see how much better you feel.
This June, celebrate National Fresh Fruits and Vegetables Month by having some healthier alternatives for food. Grow your own, find local options or check out your local cafe or restaurant for delicious and natural produce. Then you can enjoy the weather and the pool with a fresh and healthy perspective.