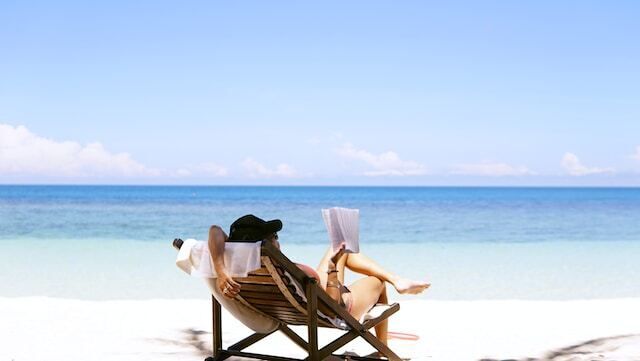 Summertime is the season of vacation time, and why not? It's the season of a beautiful sky, gorgeous weather and fun holidays. Vacation is an important part of summer, and should definitely be taken advantage of. 
However, vacation can also be a pretty big hassle. It's expensive, difficult to plan and can somehow be more stressful than your non-vacation life. Luckily, a great vacation doesn't have to be an elaborate vacation. Today, we've collected six reasons why you should take a vacation this year. Whether it's a staycation or a world trip doesn't matter—as long as your heart is along for the ride.
1. Take a break.
First and foremost, you need a break. After a long winter and spring, summer is the time to kick up your shoes and throw on your shades for some relaxation. Having time to take your mind off of work, activities or even people can help you relax and recharge for when you come back. Breaks and vacations have been proven to have a positive impact on workers' performance levels, so try it out and give yourself a much-deserved getaway.
2. Make fun memories.
Whether you're traveling a few short miles or to a completely different country, a vacation is the perfect time to make fun, lasting memories with your loved ones. There's just something about being crammed together, struggling through various challenges and discovering new environments that bonds a group of individuals together. Memories are the foundation of any relationship, and you can be sure to build strong ones by creating fun vacation memories.
3. Build relationships.
That being said, taking a vacation is an opportunity to build new relationships or to sustain old ones. Whether you're with friends or family, your relationships will grow when you get away from regular life and come together over something in common. Relationships are a vital part of our lives, so why not take the time to care for yours? Go on a quick trip with your loved ones to have fun and reconnect together.
4. Learn something new.
Of course, vacations are also a chance to learn something new you didn't know before. Even if you stay at home for a chance to relax, you have the opportunity to get out and do something during the day that you wouldn't normally do. Learn about a different culture, a historic landmark or even something completely random and add it to your repertoire of fun party facts for later. When you keep learning, you keep growing.
5. Realign your purpose.
Vacation is also an opportunity to realign your purpose and goals for life. Take some time to yourself and think through where you are in life, and where you want to go. Find peace in the moments of vacation to be alone in the quiet and consider your dreams. When we have a chance to clear our head, you may be surprised at what you find left.
6. Try something fresh. 
Finally, use your vacation time to try something fresh, new or unique. Visit a restaurant or cafe for a taste of food you've never tried before. Go on an adventure you never thought you would do. Be a little crazy, have a little fun and enjoy a moment you'll remember forever.
This summer, take some time to enjoy a vacation. Whether it's three days or three weeks, at home or across the world, throw yourself into the moment and use it as an opportunity to relax, regrow and reconnect with your loved ones.