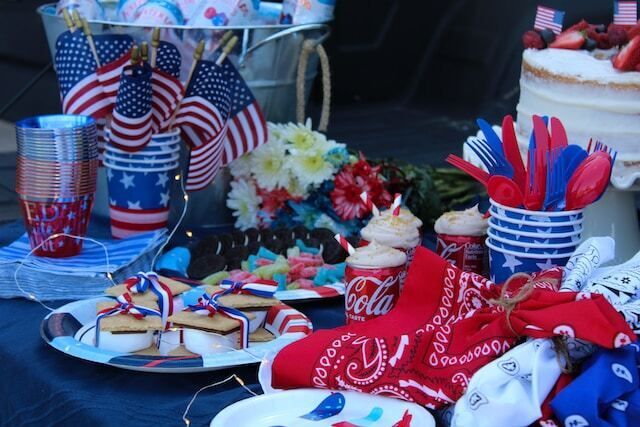 America's most patriotic holiday is upon us. Red, white and blue banners and flags can be found on every front porch. Backyards all over the country will soon smell of hamburgers, hot dogs and sulfur from fireworks. Planning an Independence Day party shouldn't have to be stressful. We've compiled a list of everything you need—from food to activities—to throw a bash your friends and family will rave about.
Get the Word Out
In today's world of social media and websites, there's no need to send out paper invitations or even an email for your party. Set up a Facebook or website event to keep track of each person you invite and their RSVP status. This will help greatly when planning how much food and drink you'll need to buy before the big event. However, you should plan to have more food than you might need on the off chance unexpected guests show up.
Good Eats
Food is one of the best ways to instill a sense of community. It's the typical focal point of any social gathering. Your guests will spend most of their time hovering over a table or a kitchen island eating and catching up. It's fairly easy to feed multiple on a budget for Independence day. 
Cookouts tend to be the most popular food theme for the Fourth of July, so many grocery stores have burgers, brats and anything else you might need for a barbecue on sale!
Taco & nacho bars are other easy ways to provide food for your guests. They tend to be cheap to prepare and a hit with almost everyone. Try looking at your local wholesale store to find bulk food items at a discount. 
Potlucks are the cheapest way to feed everyone and are often the most fun. Getting to try each other's dishes is a great way to bring people together. It also means fewer pots and pans to wash after, which is always a plus. 
Fun Drinks
The Fourth of July is a great holiday for themed beverages. You can make patriotic drinks with or without alcohol. A crowd favorite is often red, white and blue layered Jell-O shots, which can also be made without alcohol for everyone to enjoy! Consider adding a patriotic twist to cocktails by adding fresh strawberries and blueberries.
Consider adding a patriotic twist to any drink with fresh strawberries, blueberries or other fresh fruit garnishes. Try using a small star shaped cookie cutter to make your fruit even more festive!
Themed Decor
Decorations tend to add up quickly at craft stores. Consider stopping by your local dollar store for patriotic streamers, paper plates, flags and any other items you might need. Dollar stores tend to have a wide variety of options and won't put a large dent in your wallet. You can save and reuse most decorations year after year!
Fun & Games
Yard games are a staple of great summer parties. If you don't have any yard games of your own (and don't feel like investing in them), you can encourage guests to bring their own from home! Games like cornhole and ladder golf are easy to set up and are a favorite among many. If you have a big enough yard, consider putting up a volleyball net for a game of friendly competition (or fierce rivalry, you decide).
If you have a pool, remind your guests to bring towels, swimsuits and sunscreen. Kids and adults alike will appreciate an easy way to cool down on what often seems like the hottest day of the year. 
Other activities your guests might enjoy are water balloon fights, frisbee, or a watermelon eating contest. 
The Fourth of July is a great day to gather with friends and family and to celebrate your community. These are just a few ways to throw a successful Fourth of July party. Feel free to add your own twist to food, drinks, or activities. No matter what, your guests will appreciate the time and effort you put into hosting them for a night of food, friends and fireworks.